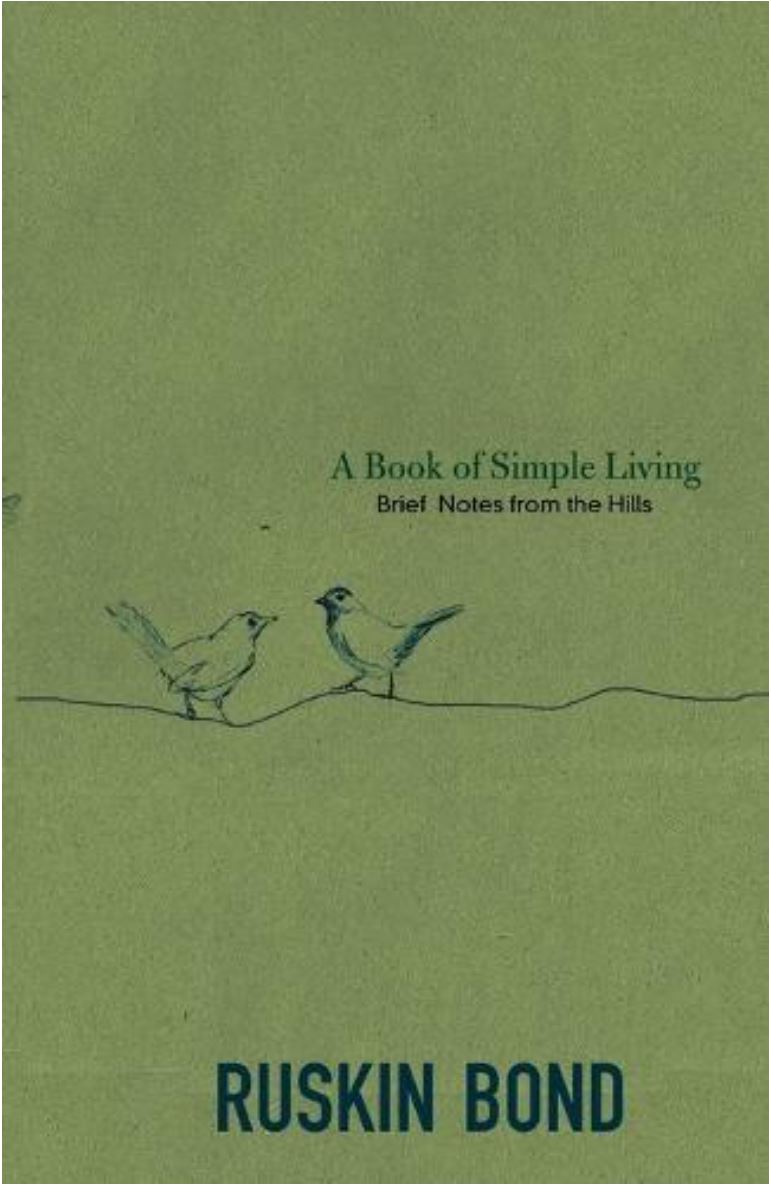 A Book of Simple Living
Ruskin Bond
Published: 2015, Speaking Tiger Publishing Private Limited
This book is a timeless classic by Ruskin Bond, a collection of notes, observations, quips about life and the serenity one experiences by living in the moment. The author effortlessly transports the reader into the warm embrace of nature and slows down all thoughts almost to the point that one can feel the stillness of the mind.
Throughout the book, the author talks about his life in the hills, his adopted family and his memories and perspective about various aspects of life. I would quote nearly half the book if given a choice. Nonetheless, a select few quotes which stayed with me well after I closed the book.
1. On gratitude and ephemerality:
"Life hasn't been a bed of roses. And yet, quite often, I've had roses out of season."
"We have had our hour in the sun, and now we should come in from the glare and enjoy the shade."
2. On health and mind:
"Sleep – 'the gentlest of the Gods'. Cherish it."
"Forget and forgive at sunset, and then the day's deeds are truly done. Then sleep."
3. On balance:
"If you owe nothing, you are rich. Money doesn't make people happy, but neither does poverty. The secret, then, is to have as much as you need – or maybe a little more, and then share what you have."
4. On minimalism and truth:
"It isn't by throwing things away and, invariably, replacing them that we avoid cluttering up our life. It is by holding on to things that have been good and faithful to us."
"The trick is to make the effort to be truthful, for nothing liberates us like the truth."
"And it is the same with forgiveness and letting go. We clutter up our life with grievances, hurts and regrets when we cannot forgive."
5. On perspective:
"The adventure is not in arriving, it's in the on-the-way experience. It is not in the expected; it is in the surprise. You are not choosing what you shall see in the world, but giving the world an even chance to see you."
"A sense of humour will help you get through the worst of times!"
6. On aspirations:
"You can generally get success if you don't want victory."
"If a hundred per cent is not possible, let us attempt the ninety-five per cent that is."
"In the effort lies the achievement; but only if the effort is true and made with all your heart."
7. On forgiveness:
"We cannot undo what we have done, but we can earn a second chance."
The author quotes Epicurus, "We shall not spoil what we have by desiring what we have not, but remember that what we have too was the gift of fortune." And then he goes on to dispel this thought by saying that to grow up hungry surely cannot be a gift of fortune. So, one does need to strive for those things that we do not have. The only difference being that we must not worry about desiring it and we must not desire in excesses, and nor must we desire only for ourselves.
Towards the end of the book, I chuckled in delight when I read that the author is a fellow petunia grower and admirer of this dainty little flower. If Mr Ruskin Bond says that someone who grows petunias must obviously have sterling qualities, then who am I to question it?
This book made for a rather peaceful read. It is a book to enjoy with raindrops falling on the windowsill, when there are flowers blooming outside, when the sun is out and on days that are dull and dreary. The sheer honesty of the words is powerful enough to transport you into the hills and will brighten up any day and any mind.
Swati Jain
July 2023
The information contained above and in other entries in the Ocean Dial Book Review Series is intended for general information and entertainment purposes only, and should not be relied upon in making, or refraining from making, any investment decisions. No information provided herein should or can be taken to constitute any form of advice or recommendation as to the merits of any investment decision. You should take independent advice from a suitably qualified investment adviser before making any investment decisions.