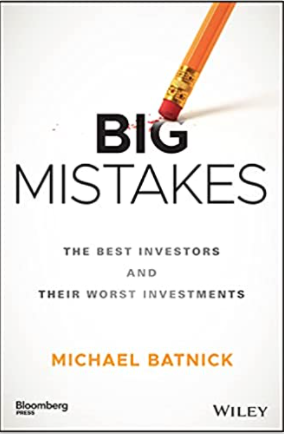 Big Mistakes: The Best Investors and Their Worst Investments
Michael Batnick
Published: 2018
In this read, the author gives some valuable insights regarding ways in which the best investors have failed. The book also advises readers on creating successful strategies by learning from previous mistakes. The crux is that even the masters of the art of investments make mistakes but the difference is that they learn from them. The book dives into the tales and investment journeys of veteran investors like Jesse Livermore, Warren Buffet and Paul Tudor Jones.
Some of the notable lessons are as follows:
Avoid the availability heuristic – Warren Buffet's mistake
Warren Buffet in his career invested in many shoe companies like H.H. Brown in 1991 and Lowell Shoe in 1992. Both the acquisitions were extremely successful and paid off rich dividends. However, the hat-trick in 1993, while acquiring Dexter Shoe, did not pay off. In the availability heuristic, people perform a mental shortcut by using immediate examples when considering a subject or decision. In this case, since his last two shoe company acquisitions were extremely successful, he was more ready to believe that the third will yield the same results. In six years low priced Chinese shoes flooded the market and killed the company.
Yielding takes courage – Mark Twain's mistake
Every intellectual may not be an astute investor. One Mark Twain's earlier investments was in the 1880 typesetting machine created by James Paige. The machine was aimed at replacing human-operated typesetting machines but the company did not do well and lost value in a very short span of time. Twain, however, continued putting money into the business, hoping for a turnaround which never materialised. His mistake was holding onto a failing proposition and not accepting defeat even when the Law of Holes prompted him to let go and save what he could.
Ego – a sin to stay away from, Bill Ackman
Bill Ackman, one of the world's best known activist hedge fund managers began to publicly call out a pyramid scheme-based company named Herbalife in 2012. His hedge fund, Pershing Square Capital Management, shorted the company believing that its stock would soon crash. Extremely convinced of his belief, Ackman even went on television to state that his short position on Herbalife amounted to about 500 million dollars. Unfortunately, his forecast was incorrect. Eventually, in 2018, Ackman exited this trade at an undisclosed loss. Ackman's biggest mistake here was his ego. The lesson to be learned is that one should always look at investing as a means to make money and not a place to be proved right.
Venturing into unknown doesn't pay always– Stanley Druckenmiller's mistake
Stanley Druckenmiller is one of the most successful macro-driven investors. During the dot com bubble, leaving the path he knew best, and buoyed by enthusiasm regarding technology stocks, invested six billion dollars into the sector in just one week. Within just six weeks of this unparalleled investment, he lost three billion dollars, cutting his investment in half. The biggest lesson here is that investors should in most situations, stick to what they know best.
The book goes deeper into the driving forces behind these mistakes to provide valuable insights. A key learning is that one must always be alert to cognitive and behavioural biases that develop over time. One should consistently ensure that one's investment decisions are purely based on analysis and keep on incorporating new information that one may receive and if necessary revise such decisions.
Dhaval Somaiya
November 2021
The information contained above and in other entries in the Ocean Dial Book Review Series is intended for general information and entertainment purposes only, and should not be relied upon in making, or refraining from making, any investment decisions. No information provided herein should or can be taken to constitute any form of advice or recommendation as to the merits of any investment decision. You should take independent advice from a suitably qualified investment adviser before making any investment decisions.