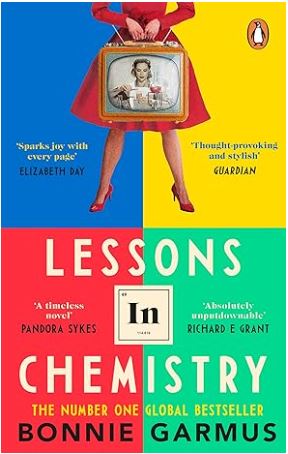 Lessons in Chemistry
Bonnie Garmus
Published: 2022, Doubleday; Penguin.
This is a wonderfully descriptive and very humorous book highlighting the challenges overcome by a woman in the pursuit of career in science in the United States in the 1960's. The author, Bonnie Garmus, takes the reader on the journey of the life of Elizabeth Zott, an ambitious, exceptionally intelligent, unmarried mother, determined to forge a career and quietly change the opportunities for women in the future. 'Your ability to change everything – including yourself – starts here' to quote Elizabeth.
Bubbling away in the background throughout there is one constant, an oppressive society, sustained by both men and women, stipulating women to be "less capable, less intelligent and less inventive". The backdrop for the story is set when Elizabeth is excluded from university and barred from completing her PhD after being subjected to sexual abuse by her boss. She takes a job at Hastings Labs, a tier three institution but her only offer. She is overqualified and underutilised but meets Calvin Evans, the love of her life. Equally as intelligent as Elizabeth, he supports her in the pursuit of recognition as the scientist that she is, but the relationship highlights the injustices she suffers, by Calvin's accomplishment with ease of everything she aspires to achieve. The story moves swiftly, Evans' dies, and Elizabeth gets fired for being pregnant and unwed. Following his death, against all her principles, she fronts a cooking show and with a quirky scientific approach becomes a roaring success, ironically making Elizabeth an icon to housewives everywhere, giving them purpose and drive to be more than just a wife.
Elizabeth is both peculiar and courageous and it's hard not to admire her tenacity in her pursuit of her goal. Her daughter Mad (Madelaine), unblinkered from social pressure, says it how she sees it and amplifies the ridiculousness of the norms at the time. Inevitably, given the personality of Elizabeth and with a nod to neurodiversity, Elizabeth comes out on top.
This was a very satisfying and inspiring read, the authors easy style and humour allows you to skip over the darker undercurrents but maybe that is what brings you back to its core. Perhaps it's because I'm female, working in a male dominated industry that I found it quite so thought provoking, but I suspect not, as I believe the overarching theme of inequality and drip-fed references to other philosophical debates like the relationship between science and religion will appeal to many.
Many of the more farcical societal pressures and social norms that Elizabeth faced in the 1960's have lapsed and increasingly it's a women's choice not to work and to stay at home. In spite of this, eight decades later, the number of women in senior positions in STEM and other industries, the obvious being Investments, remain very low. How can this still be the case? Throughout the book Garmus does a very good job of conveying the frustration of the situation without too much 'man-bashing', something I'm less able to do, so before I yell 'down with the patriarchy' I'll sign off and just suggest you read it yourself, it's worth it and if pencils aren't the hair accessory of 2024, I'll eat my hat.
Lucy Draper
September 2023
The information contained above and in other entries in the Ocean Dial Book Review Series is intended for general information and entertainment purposes only, and should not be relied upon in making, or refraining from making, any investment decisions. No information provided herein should or can be taken to constitute any form of advice or recommendation as to the merits of any investment decision. You should take independent advice from a suitably qualified investment adviser before making any investment decisions.